This post will be long, however, I will make it worth it.... every bite! My husband and I traveled to our favorite B&B in Tlaquepaque, town within Guadalajara, Mexico. Later I will post about the B&B, but for now... focus on this wonderful meal at Casa Fuerte, "restaurante en Tlaquepaque". After checking into our B&B... which I have blogged about in the past, we made our way a couple of streets over to relax and enjoy what we had been waiting for... a cold, cold Tecate Light cerveza and the most fabulous ice cold tamarindo margarita served in a tart, sweet tamarindo crystal rimmed glass. Awhhh!
I need to add that walking into Casa Fuerte was a treat for the senses. Short pine tree branches had been placed on the floor so that when a person walked across them they could hear the crunch and enjoy the aroma of pine as well. Lovely....
A sliced, fresh bolillo was served with butter which was neatly packed in soft corn husks. Too cute! We ordered guacomole which was served with toasted corn tortillas as well as tostados. It was about the creamiest guacomole I've ever eaten. Seasoning perfect!
My husband ordered shrimp bisque which was topped with heavy Mexican cream. Yum!
But for me... Colonial Corn Cake, a dish I had looked forward to enjoying. It is a long, recipe and there are many steps, but it is one of the most delicious recipes I have found in Mexico. It can also be served without the green chile sauce, but with warm honey. I have yet to try this, but I plan to.
For dessert my husband and I shared a fruit cocktail of sorts... all fresh fruit: kiwi, pineapple, papaya, honey dew and apple. It was sprinkled with fresh grated coconut and toped with coconut sherbet.
I have a wonderful surprise for you... the recipe for Colonial Corn Cake!!
Colonial Fresh Corn Cake
8-10 side dish servings
SAUCE
4 c. water
1 fresh poblano chile (about 3 oz.) stemmed, seeded and cut into thick strips
1 small green bell pepper, stemmed, seeded and cut into thick strips
1 ½ c. (loosely packed) baby spinach leaves
¼ c. chopped white onion
3 whole cloves
2 garlic cloves, flattened
2 bay leaves
¼ c. (1/2 stick) butter
3 tablespoons all-purpose flour
1 c. whole milk
2 teaspoons powdered chicken bouillon
CORN CAKE
4 c. fresh corn kernels (cut from 4 ears) – I used frozen corn
4 large eggs
1 c. whole milk
9 tablespoons unsalted butter melted
2 tablespoons sugar
1 ½ teaspoons baking powder
1 teaspoon salt
SAUCE
Bring 4 cups water to boil in large saucepan. Add poblano chile and next 6 ingredients; boil until vegetables are tender, about 10 minutes. Discard bay leaves. Drain, reserving cooking liquid. Transfer vegetables and ½ c reserved cooking liquid to blender. Blend chile mixture until smooth.
Melt butter in heavy medium skillet over medium heat. Add flour, whisk in milk, then blended chile mixture. Whisk sauce constantly over medium heat until it boils and thickens, about 3 minutes. Whisk in bouillon powder. Season sauce to taste with salt and pepper. (Can be made 1 day ahead. Cover and refrigerate. Bring to simmer before using.)
CORN CAKE
Preheat oven to 350 degrees. Line 13x9x2 inch baking dish with foil. Butter and flour foil. Working in 2 batches, puree all ingredients in blender until almost smooth. Transfer batter to prepared pan. Bake until baked golden brown and tester inserted into center comes out clean… about 1 hour.
Invert cake onto platter. Cut into squares and serve warm with sauce.
As involved as this recipe is, I promise you it is a true delight. I would serve it not only as a side dish for lunch or dinner, but for breakfast. I might also be tempted to serve it for a light lunch with a salad and a glass of ice tea... or maybe some light white wine.
I'm joining with other "foodies" for
Foodie Friday at
Designs by Gollum
Check it out!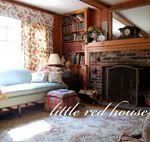 It's Mosaic Monday so make a visit to
Little Red House for some